There's a place for you here.
We're committed to being in ministry with all people, and strive to offer a variety opportunities for growing and serving! Some of our regular ministries and programs are listed below but the most up-to-date information will always be found through our email updates, which you can sign up for online. If you are looking for a specific program or ministry, or if you have any questions about getting involved at the church, we'd love to talk with you! Give us a call or send us a note here.
Our goal is to ensure that there's something to help everyone grow in their faith – and that includes you!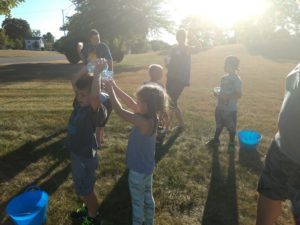 Children
We welcome children in all of our worship services and have a nursery ready with toys, changing table, and crib. We also have a special kids-sized table in our sanctuary with coloring pages and crayons for kids to use during worship.
Youth
Our youth group, for students grades 6-12, meets weekly throughout the school year to explore important questions about life and faith while having lots of fun! Youth are also invited to participate in a summer mission trip each year, spending a week at a Michigan mission site.
Bible Studies & Small Groups
We offer a variety of Bible studies and small groups throughout the year, ranging from book-club discussion of recently published Christian books to in depth study of scripture. We invite everyone to find their place in a group that encourages and supports their growth in faith!
United Women in Faith
Open to all women of the church, the United Women in Faith are active in supporting mission work through fundraising efforts. Known in particular for the Christmas in the Village Cookie Walk, this group has a lot of fun working together while supporting the work of the church.
Shawl Ministry
The shawl ministry group meets monthly on a Wednesday evening to knit or crochet together, making prayer shawls that are given to children at their baptism, high school graduates, and the ill or hospitalized.
Mission & Service Opportunities
We engage in a number of outreach and service projects throughout the year. Every summer, we work with other churches in the county to build a Habitat for Humanity house. We regularly hold drives and fundraisers for local ministries, and are quick to help our community however we can!